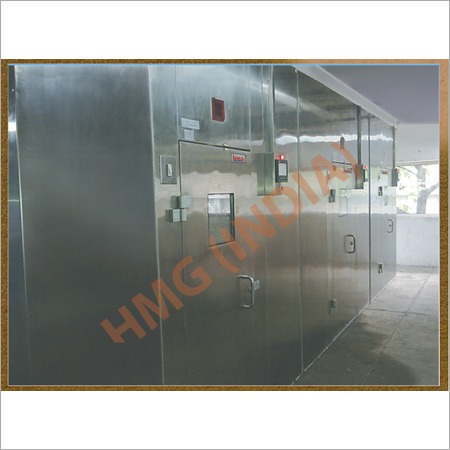 Walk In Chamber
Product Code : 32
Product Description
The company has become a prominent name in the laboratory equipment industry by continually making and selling world class range in the global market. Stainless steel structure of this chamber makes it highly resistant to diverse operating environments. This chamber is designed in a number of models and apart from that, it can also be made in customized specifications for challenging application requirements. Using this walk in chamber, the users can store and test several products under desired temperature.
Features:
This chamber is fire and chemical resistant
This energy efficient equipment is suitable for all, small & big labs
Digital temperature controller / indicator, audio temperature alarm are options.
It allows hassle free functioning
Walk In Chamber
HMG (India) offers factory ready, easy to assemble sandwich panels with Polyurethane foam insulation for incubators, insulated vans, cold room and walk-in humidity chambers.
Version
Different version of chambers provided to meet requirement.
Walk-in-Cooler in case of below ambient & sub zero temperature requirement.
Walk-in incubator in case of above ambient temperature requirement.
Walk-in-humidity/stability chamber for temperature and humidity control)
Wide Ranges
Different sizes of light weight panel are available to suit several applications.
60/80/100/120/150mm thicknesses
1.8/2.25/2.8/4.6 meters height
600/900/1000mm width
Portability
With light weight & "modular design assembly", one can fabricate room of any size.
Dismantling, enlargement & relocation of the room is also easy and quick.
Metal Finish :
24 G prepainted CRCA or GI metal sheet, powder coat finish
Resistance :Chemical resistance
: Due to their resistance against chemical agents, the panels are not affected by its reaction.
Water Resistance
: The panels are resistant to water.
Fire Resistance
: The panels are resistant to fire.
Maintenance Proof :
The sturdy designed and finished walk in chamber requires negligible or minimum maintenance.
Minimal Heat Transfer :
To ensure there is tight fit between panels, its tongue and groove edges are molded to close tolerance. As a result, the condensation is not formed on the form and heat transfer is minimum.
Quality Accessories :
We have sourced best in class hardware for panels.
We provide optional accessories on request, including Digital Temperature Controller / Indicator, Strip Curtains, Inner Storage Racks, Audio Temperature Alarm, etc.
Temperature / Humidity Ranges :
Temperature Ranges : As per requirement (-20 C, -10C, 0C, + 50C & Above)
Humidity Ranges : 40% to 95% RH (optional)
Data Recording Facilities
Strip Chart recorder for continuous recording or circular recorder for daily/weekly recording
It has a Printer Interface compatible to 80 column DOT Matrix printer of EPSON or WIPRO
PC Interface through RS 485/ RS 232 - C for several networking of controllers.
Window based software for creating reports in graphical or tabular form.
Validation : The company offers validation protocols for IQ, DQ & PQ documentation.
Product Details:
| | |
| --- | --- |
| Metal Finish | 24 G Prepainted CRCA / GI Powder coat |
| Width | 600/900/1000 mm |
| Insulation | PUF |
| Thickness | 60/80/100/120/150 mm |
| Brand | HMG India |
| Height | 1.8/2.25/2.8/4.6 Meters |
Contact Us
HMG House, Plot No. 33 A, Parmar Techno Centre, N.H 8, Vasai Phata, Vasai (East), Vasai, Maharashtra, 401208, India
Phone :+918068342177